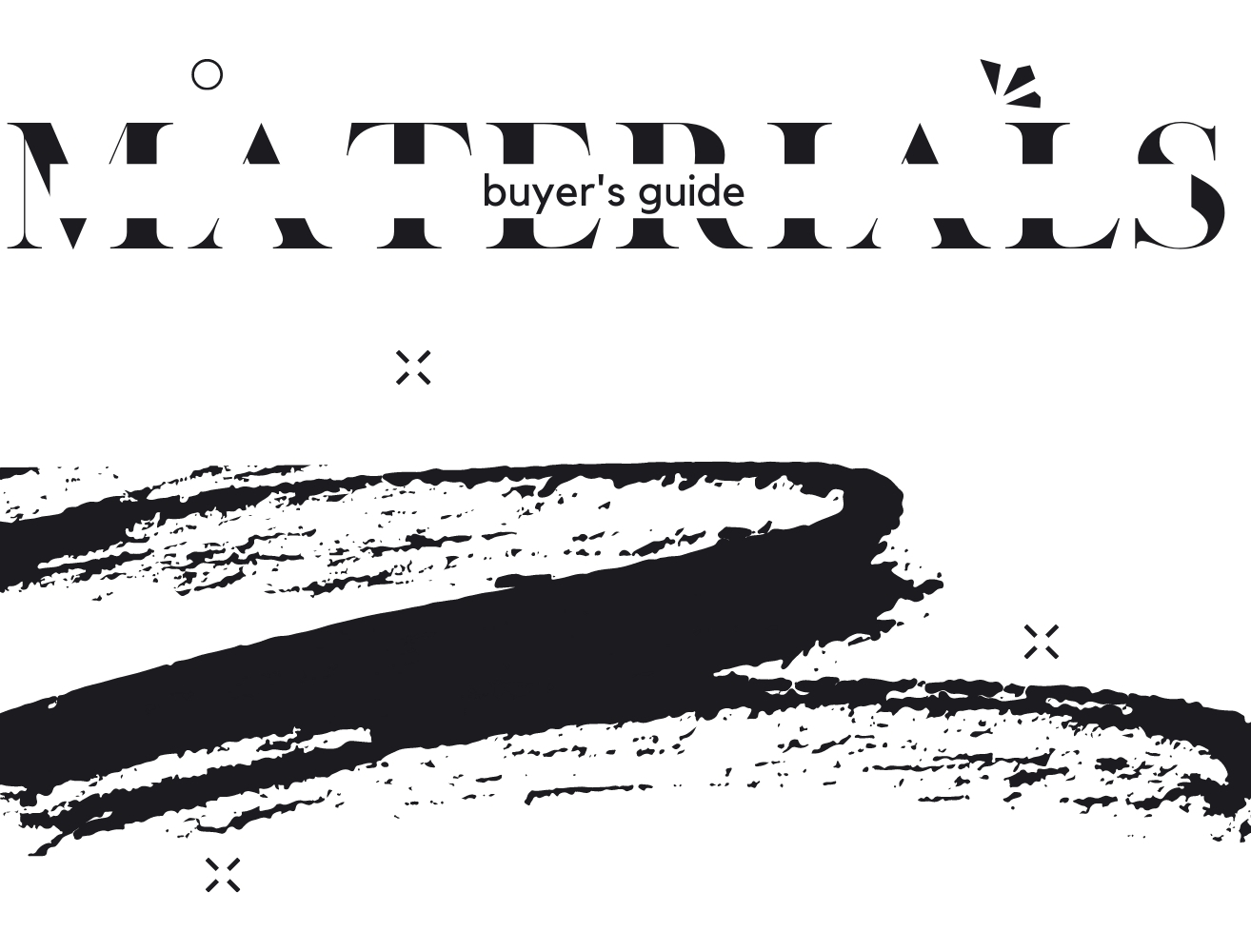 Facts About Our Materials
 At Cosibello we take great care to ensure that all of our pieces are produced with a focus on sustainability and ethical practice.
- Using recycled fair-trade materials in all our jewelry.
- Our pearls are sourced in farms that is intentionally to make it eco-friendly.
- We avoid harsh chemicals often used in jewelry making.
- We only produce a few collections a year and are very proud to create ethical jewelry for women by women.
Difference Between Gold Vermeil and Normal Plating
The main difference between Vermeil and gold-plated/gold-filled jewelry is that vermeil items have a base made of Silver, whereas plated and filled pieces can be made with a variety of metals.
Gold plated jewelry is commonly electroplated onto any base metal, their base metal can be copper, brass or other hidden material that may cause allergies.
Note: The base alloy of gold vermeil must be sterling silver.
Will Gold Vermeil tarnished?
Because Gold Vermeil is made with a silver base, and because silver is known for oxidizing, it is only a matter of time before gold vermeil starts to tarnish. However, this does not have to be a permanent issue. With regular cleaning and maintaining, the tarnish can be removed and the vermeil restored to sparkle.
Hypoallergenic?
Regarding jewelry metal allergens, copper and nickel are the biggest threats. As previously stated, gold vermeil uses fine silver or sterling silver as a base metal. This means that gold vermeil is generally a safer metal for sensitive skin.
Generally, Gold Vermeil is hypoallergenic.
Can You Shower With Gold Vermeil?
With a base of sterling silver, there is always a chance of oxidization with gold vermeil jewelry. There is also a chance that the gold might start to fade over time.
Contact with water, soap, and other chemicals can speed up this process and cause the gold layer to start to fade more quickly.


Why use sterling silver instead of fine silver?
Sterling silver is much more durable compared to fine silver because of the added metal alloys. This can help your piece last and stay looking the best it possibly can for longer.
Sterling silver is easier to shape than the soft and malleable fine silver, so you'll be able to find more options made of sterling silver vs silver.
Stamps Of Quality
Most high quality silver items are stamped with a "S925" or "925" mark. This mark designates the precious metal content of the jewelry.
Stamps Of Quality
Sterling Silver naturally tarnishes with the exposure to air.
Stress-free: Most of our sterling silver pieces are sanded in Rhodium for extra protection.
It has a bright finish, that look almost the same to white gold.

Understanding of Stainless Steel
There are over 150 grades of stainless steel. Is strong, doesn't tarnish can be polished easily and is great value.
Jewelry in stainless steel is commonly made from 316l or 316 and is often called medical grade stainless steel as it doesn't react to the skin….well, for most people.
Is Surgical Steel 100% Hypoallergenic?
Hypoallergenic means "below normal" or "slightly" allergenic. If you have an allergy to some jewelry most of the time its either Nickel and Copper.
Comparing to Brass and Copper, Surgical Steel is much safer to wear. 
Value of Surgical Steel
Surgical stainless steel jewelry is durable and rated a harder metal than sterling silver. They will not tarnish, rust, or corrode, making it maintenance-free. Perfect if you work or play on the water. You can easily clean with soap and water.

What Are Pearls Really Are? How Are They Formed?
Pearls come in a variety of shapes: round, oval, pear, semi-round, button, baroque, drop, and circle. Pearls are most commonly white and black, but they can also be other colors including green and pink.
There are two types of pearls: natural pearls and cultured pearls. Both are beautiful options for fine jewelry.
NATURAL PEARLS VS. CULTURED PEARLS
Natural Pearls
With natural pearls, the mollusk (includes snails, slugs, mussels, and octopuses) comes from an organism in the water. They can form in saltwater or freshwater. Natural pearls are very rare and therefore very expensive.
Cultured Pearls
The growth of cultured pearls requires human intervention and care. They are (usually a tiny bead) inserted manually. There are two main categories of cultured pearls: freshwater and saltwater. Freshwater pearls are grown in mussels in lakes, rivers, ponds, and reservoirs.
In some cultures, pearls are used to help women connect with their inner goddess. Pearls are also symbolic of wisdom, offer protection and good luck. They enhance personal integrity, promote faith, loyalty, and purity.
Akoya Cultured Pearls
Akoya Cultured Pearls
Akoya cultured pearls are the most familiar type of saltwater cultured pearl to most people in the U.S and other western markets. Many customers think of white or cream colored akoyas as the classic pearl used for jewelry, especially single-strand necklaces. Japan and China both produce akoya cultured pearls.
South Sea Cultured Pearls
South Sea Cultured Pearls
Australia, Indonesia, and the Philippines are leading sources of these saltwater cultured pearls. South Sea cultured pearls can be white to silver or golden, depending on the type of oyster. Their large size and thick nacre, due to a long growth period, plus their limited critical growing conditions are all factors contributing to their value.
Tahitian Cultured Pearls
Tahitian Cultured Pearls
Cultivated primarily around the islands of French Polynesia (the most familiar of these is Tahiti). These saltwater cultured pearls, sometimes referred to as black pearls, have a wide color range. They might be gray, black or brown, and they can have blue, green, purple or pink overtones.
Freshwater Cultured Pearls
Freshwater Cultured Pearls
Freshwater cultured pearls are the most commonly produced pearls and they are one of the most popular pearl types among shoppers and jewelry designers. This is due to their remarkable range of sizes, shapes and colors. They are usually cultured in freshwater lakes and ponds, often with many pearls grown in one oyster. China is the leading source for freshwater cultured pearls.

BAROQUE PEARLS
Baroque Pearls are pearls that are not perfectly round, they have an irregular shape. This irregular shape can range from a minor defect to a distinct oval, curved, pinched, or lumpy shape.
Note: They often occur during the pearl production process when organic material decomposes and produces gas. The gas expands between the layers of nacre, forming unusual shapes.
Types Of Baroque Pearls
There are about 12 main types of baroque pearls, with varying value in terms of use in jewelry and overall beauty.
Coin ; Baroque ; Twin ; Potato ; Cross ; Stick ; Rice ; Egg ; Heart ; Teardrop ; Leaf ; Keshi
Akoya Cultured Pearls
Most Baroque Pearls available are freshwater pearls, which are the most affordable of all cultured pearl varieties. Saltwater Baroque Pearls like the South Sea or Tahitian Pearl are more valuable than freshwater baroque pearls.

What is gold-plated?
There is no standard metal or gold thickness when it comes to gold-plate. You can find gold plate in a variety of thicknesses and on a range of varying metals and alloys. With gold-plating, there is the high likelihood of the gold finish wearing out and chipping over time as the gold coating is very thin.
What is gold-fill?
Despite its somewhat misleading name, "gold-fill" jewelry is not actually filled with gold— it's really the opposite. To make gold-fill jewelry, multiple layers of solid gold are pressure-bonded to a core of high-quality jeweler's brass using extreme heat. (Industry standards dictate that your piece must be 5% solid gold by weight.) The result is a thick layer of real gold and a durable, long-lasting product. 
Gold-fill jewelry is a great alternative to solid gold, as it offers the ideal balance of quality and value.
When it comes to deciding what type of gold you want for your piece, it really comes down to two main factors: how much you want to spend, and how long you want your piece to last.
Solid gold pieces will last virtually forever, but they are the most expensive option when it comes to gold jewelry. 
Gold-fill pieces are just a step down from solid gold. For many customers, they offer the ideal balance of price and quality.
Gold-plated pieces are typically the least expensive option, but offer lower quality. These pieces could easily chip or flake and there are few standards about what base metal can be used. In rare designs where we find gold-plated to be necessary, we only use quality Sterling Silver as the base metal.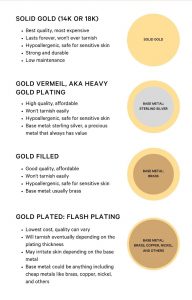 Gold-Fill:
Though gold-fill can naturally tarnish over time, it's easily cleaned! We include a polish cloth in our packaging which we recommend using only when your piece is dull or tarnished—not for everyday cleaning purposes. It should be used "lightly" and not pressed hard against the metal to remove tarnish, as it could rub off the gold on your piece over time.
Rose Gold-Fill:
Rose gold fill is more prone to tarnishing than gold-fill because of the small amount of copper alloyed with the gold that gives it its beautiful pink color. but the same care tips that apply to gold fill also apply to rose gold-fill.  
To prevent rose gold and gold-fill tarnishing:
Avoid getting any product on your jewelry
Clean it with mild soap and warm water and thoroughly dry it after wearing
Store it in the storage we provided because it has added with extra felt protection to prevent oxidized.
 Avoid exposure to humidity